Gochujang (pronounced go-choo-jang) is a savory, sweet, and spicy fermented Korean chili paste that serves as the base for many classic Korean dishes. Made with chili peppers, glutinous rice, fermented soybeans, and salt, gochujang packs a punch of umami flavor. Its unique taste profile has made it a beloved staple in Korean pantries for centuries.
While the chili paste originates in Korea, its popularity has exploded worldwide in recent years as Korean cuisine gained more global fans. With its deeply complex flavors, gochujang can transform simple weeknight meals into something extraordinary. Let's explore the wonders of this versatile condiment and how to cook delicious gochujang beef.
Understanding Gochujang's Flavor Profile
Gochujang's flavor is multilayered, with notes of sweet, salty, nutty, and spicy. The fermented soybeans provide a savory, almost meaty umami base, while the rice brings a subtle sweetness. The chili peppers offer a slow spicy burn that creeps up on you. The fermentation process allows all the ingredients to mingle harmoniously.
When cooking with gochujang, balance is key. The chili paste can quickly dominate a dish with spicy heat if used too liberally. Mixing it with sweeteners like honey or maple syrup helps temper the burn. Adding acidic components like vinegar or citrus helps brighten its nutty undertones. Don't be afraid to experiment with gochujang ratios to find your desired flavor balance.
Gochujang's Many Versatile Uses
In Korean cooking, gochujang serves as more than just a spicy condiment. Its umami qualities make it an ideal ingredient for stews, braises, stir-fries, dipping sauces, and more. Here are some of the many ways Koreans incorporate this chili paste:
Bibimbap: Mixed with sesame oil and rice vinegar for the classic bibimbap sauce.
Stews: Added to braised meat and vegetable stews for flavor.
Marinades: Blended into marinades for meat or tofu.
Stir-fries: Stirred into stir-fries near the end for flavor and glaze.
Dipping sauce: Thinned with vinegar and sugar for a spicy condiment.
Ddeokbokki: The base for the beloved Korean rice cake snack.
Jeon pancakes: Mixed into batter for savory pancakes.
Fried chicken: Brushed on for spicy, crispy fried chicken.
This list just scratches the surface of gochujang's versatility. Once you stock this chili paste, you'll find endless ways to incorporate its addictive flavor into meals.
Cooking Gochujang Beef
Gochujang's rich umami makes it a perfect match for beef. The chili paste tenderizes beef while adding sweet heat. You can keep gochujang beef easy for weeknights or embellish it for a Korean-inspired feast. Here are some tips for cooking gochujang beef.
Choose the Right Beef Cut
Look for well-marbled beef cuts like short rib, chuck roast, or skirt steak when making gochujang beef. The fat keeps the meat tender and juicy once cooked. For quick weeknight gochujang beef, opt for ground beef. Slice larger cuts thinly across the grain after cooking for a tender bite.
Balance the Gochujang
Too much gochujang can make beef taste overly spicy. For a marinade, combine 2-3 tablespoons of gochujang with soy sauce, oil, minced garlic, and a touch of sugar or honey. For stir-frying, mix 1-2 tablespoons of gochujang into the pan sauce and balance it with vinegar, soy sauce, honey, or oyster sauce.
Add Veggies for Contrast
Quick-cooking vegetables like spinach, bok choy, or mushroom contrast nicely with the rich gochujang beef. They also help temper the heat. Saute or steam them and mix them into gochujang beef bowls.
Don't Forget the Rice!
What's gochujang beef without some steamed rice on the side? Opt for glutinous or sticky rice varieties that cling together for easy eating. Plain white rice works too. Rice balances the intense flavors of the beef.
Garnish with Scallions and Sesame
No Korean dish is complete without those finishing touches. Slice scallions and sprinkle them raw over gochujang beef along with toasted sesame seeds. Serve with kimchi for extra flavor.
Conclusion
With its complex umami flavors, gochujang can transform your everyday cooking into an adventure for the taste buds.
Start by sampling it stirred into rice or drizzled over vegetables to appreciate its unique taste.
Then get creative mixing it into sauces, stews, dressings, and more.
This amazing chili paste adds sweet heat and savory depth to any dish.
Let gochujang bring new flavors to your kitchen. Your taste buds will thank you.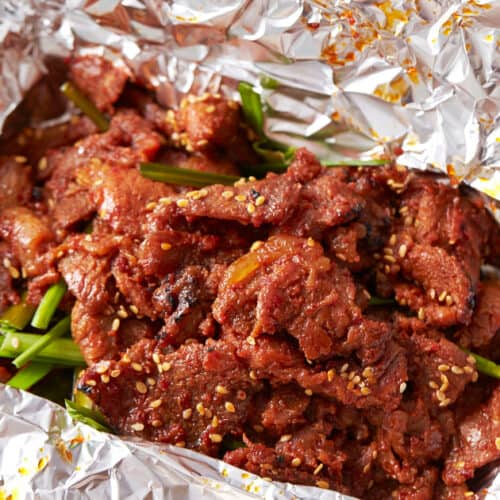 Gochujang Beef
Enjoy this fast and flavorful Korean-inspired meal any night of the week!
Ingredients
1

lb

ground beef

3

cloves

garlic, minced

1

tbsp

gochujang

1

tbsp

soy sauce

1

tbsp

brown sugar

1

tbsp

rice wine vinegar

1

cup

frozen spinach, thawed

4

cups

cooked white rice

Sesame seeds, scallions and kimchi for garnish
Instructions
In a large skillet, cook ground beef over medium-high heat, breaking it up into small crumbles as it cooks. Drain excess fat.

Add garlic and cook 1 minute more.

In a small bowl, combine gochujang, soy sauce, brown sugar, and vinegar. Pour over beef.

Add spinach and cook until heated through and beef is glazed, 2-3 minutes.

Serve beef over white rice and garnish with sesame seeds, scallions, and kimchi. Enjoy!
Notes
Gochujang is a Korean fermented chili paste that adds sweet heat and umami flavor. Look for it at Asian grocery stores or online.
For a vegetarian version, substitute the beef with chopped mushrooms or extra firm tofu.
Add other quick-cooking vegetables like bok choy, broccoli, or zucchini.
Short grain or glutinous rice varieties work best, but jasmine or basmati rice can be substituted.
Leftovers reheat well and taste even better the next day!
Customize with your favorite Korean banchan (side dishes) like kimchi, bean sprouts, pickled radish, etc.
Gochujang Beef Bibimbap
With its rainbow of ingredients and flavors, bibimbap makes both a filling meal and eye-catching presentation! Adjust the ingredients to use up leftovers or suit your taste.
Ingredients
1

lb

ground beef, cooked

1

cup

gochujang sauce (3 tbsp gochujang, 2 tbsp honey, 1 tbsp sesame oil, 2 tsp rice vinegar)

1

cup

frozen spinach, microwaved

1

carrot, julienned or grated

4

cups

cooked short grain rice

1

cup

shiitake mushrooms, sauteed

2

fried eggs

Sesame seeds, scallions and kimchi for garnish
Instructions
Prepare the ingredients: Cook ground beef. Make gochujang sauce. Microwave spinach. Julienne carrot. Cook rice. Saute mushrooms. Fry eggs.

Assembly: Bowl up rice, then arrange beef, spinach, carrots, mushrooms, and fried egg attractively over the top.

Drizzle with the gochujang sauce. Garnish with sesame seeds, scallions, and kimchi.
Notes
Bibimbap is a traditional Korean rice bowl dish loaded with veggies, meat, egg, and spicy sauce.
Use additional banchan ingredients like seasoned bean sprouts, pickled radish, zucchini, etc.
For non-vegetarians, bulgogi beef or chicken can substitute the ground beef.
Cook an extra fried egg and keep it runny by basting the hot pan with a little water.
Leftovers reheat beautifully in the microwave or pan the next day.